Now that the hot weather is almost back, grilled recipes are ideal for a lunch or a dinner: they are tasty, fast and easy-to-cook, and becomes a classic meal for the summer, that you can vary with ad infinitum. I am starting the "Grilled" section today with a recipe originating from the south of Spain: baked chicken legs with chorizo, potatoes, and Mediterranean vegetables, sprinkled with a hint of orange zest that gives a citrus savour to the dish. It almost taste like a tajine: The south of Spain had been under Arabic control for many years, which explains the oriental influences in the cuisine, to our great pleasure.
I like it because:
It is so easy to make: you just put all the ingredient in the baking dish and cook them slowly in the oven.
You can vary the vegetables regarding your test: onions, fruits like apples or mirabelles, dry fruits or olives accompany perfectly the meat.
Tricks:
Use a large baking dish so that the ingredients cook and roast evenly.
Add the garlic clove unpeeled and remove them after the cooking so that you won't eat one by mistake.Baby potatoes are recommended for their sweet taste, unpeeled, but you can also use normal potatoes cut into small pieces.
Baked chicken thighs with chorizo and orange
Baked chicken thighs with chorizo and orange
Ingredients
3 tablespoons olive oil
4 chicken thighs, cut in 2 by the butcher if you prefer
Salt, pepper, crushed cilantro seeds and any other seasoning you usually use
4 cooking chorizo sausages, 300g in total more or less
400g baby potatoes
3 garlic cloves
1 courgette
1 red pepper
2 small tomatoes
4-5 rosemary branches
3 tablespoons oregano or Provencal herbs
1 orange zest
1/4 glass of water
Instructions
Pre-heat the oven at 220º.
Stir the olive oil in the baking dish and rub the chicken thighs with the skin down. Seasons with salt, pepper, crushed cilantro seeds, etc. and turn the thighs skin up.
Cut the chorizo into 4 cm pieces and add them to the dish, clean the potatoes with water and add them too, as well as the garlic cloves, unpeeled.
Cut the courgette, the red pepper and the tomatoes roughly into medium size pieces and add them to the dish as well. Try to balance all the ingredients into the dish.
Finally spread the rosemary branches and the herbs all over the ingredients, and grate the orange zest over the dish.
Stir 1/4 glass of water and put the dish into the oven for 30 minutes.
Remove the dish from the oven, moisten the meat and vegetables with the orange sauce of the chorizo with a large spoon and put it back in the over for 30 more minutes. When it is ready serve it very hot.
[amd-zlrecipe-recipe:7]
Bon appétit!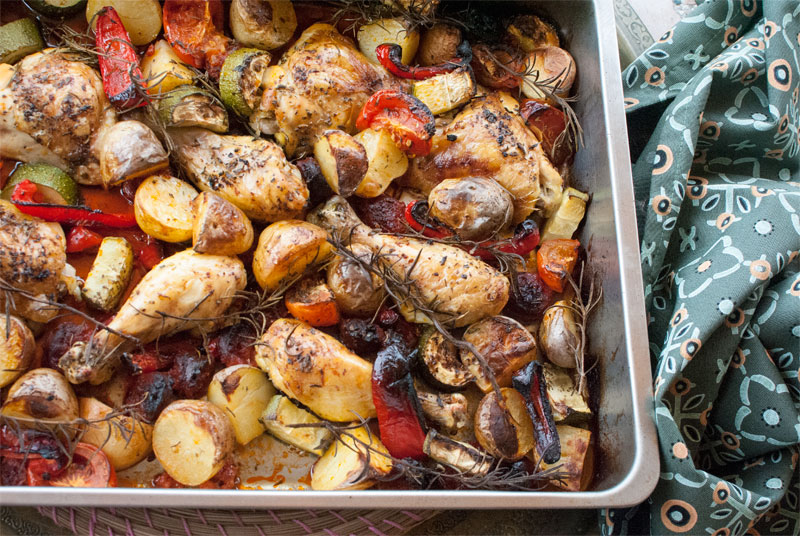 Enregistrer