Curries, especially those that are made with coconut milk, are one of my great loves since I discovered them. There is a huge variety of Indian, Thai or Chinese recipes, but the chicken curry with coconut milk is one of the most popular. In this post I attempt to make a version with ingredients easy to find in the general store, in order to make it quick and simple.

I have tried to approach a Thai curry version, using curry paste, lime, sunflower oil (not olive oil) and white sugar or brown sugar.

I like it because:
The chicken curry with coconut milk is very easy to make and fully accessible for beginners, if you want to impress people.

It's quick to prepare: sauté quickly all the ingredients in a wok on high temperature and then cook slowly with the coconut milk for a few minutes.

It is a perfect dish for a dinner with friends or family, at any time of the year.




Tricks:
Sauté the vegetables quickly to keep them crunchy. 

There are many types of curry paste that I can't really distinguish myself except by the level of spice. I recommend to try several several of them, and choose the one you like best.

For this recipe I used the "Rogan Josh". It is medium spicy and contains cinnamon and cardamom.

It is a curry of Kashmir in India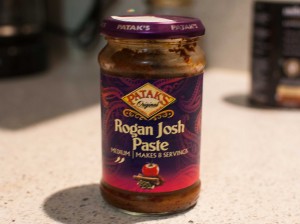 You can use either sunflower or olive oil, but coconut oil is also a very good option, and white sugar or brown sugar.
Chicken curry with coconut milk
Thai Chicken curry with coconut milk
Ingredients
1 can of coconut milk
1 limon (green) for the zest + the juice of half of it
1 tea spoon of brown sugar
1 tea spoon of soy sauce
2 spoons of curry paste
Optional : 1 spoon of potato starch to bind the sauce
sunflower oil
2 onions
5 garlic gloves
Half a brocoli
3 carrots
2 chicken breasts, cut in small stripes
Basil leaves as you like
Instructions
Mix the coconut milk, green lemon zest and juice, soy sauce, brown sugar, the curry paste and (optional) the potato starch together in a bowl.
Chop the onion and the garlic on one side, and the broccolis and carrots on another side because they don't have the same cooking time.
Heat a bit of oil in a wok, and fry the onion and garlic together a couple of minutes, add the other vegetables and let them cook 4 more minutes.
Remove the vegetables from the pan, add a bit of oil and cook the chicken during 5 minutes, until the stripes are brown.
Then add the rest of the vegetables and the coconut milk, cover and let it cook slowly 10 more minutes. In the meantime you can cook the rice or pasta.
Once it's ready add the basil in the pot or directly in the plates. There is never enough basil so do not hesitate to put a lot, especially if you have a basil plant at home.
Serve it very hot, with the rice or pasta.
[amd-zlrecipe-recipe:22]
Bon appétit!