Jump to recipe
After Christmas and its huge meals, we generally appreciate a few weeks of light, healthy and easy to prepare food to sweep away the previous excesses, which makes soup a very successful option. My favourite winter soups are the pumpkin curry soup with sweet potato and the sautéed vegetables soup but I always like to try new recipes for a change, such as this kale soup.
The kale, or leaf cabbage, originated in Northern Europe and is mainly used in German and Dutch cuisine. Recently it became very popular for its many health benefits, among them high nutritional value, vitamins, minerals, antioxidants, as well as being low in calories.
How to make a kale soup? In this recipe I have used kale leaves with sweet potatoes and carrots, to give a soft and sweet flavour to the soup.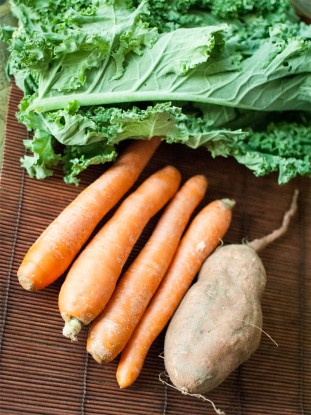 I like it because:
The kale gives a nice light green colour to the soup.
Orange vegetables are good especially in winter because they contain beta-carotene, which helps protect from infections and produce antibodies.
Tricks:
Complete soup with little bits of cheddar or Comté just before you serve it, for added flavour.
As with every soup recipe, the ingredients can be varied, so let yourself go with your imagination.
Bon appétit!
Vegetarian kale soup

Vegetarian Kale soup, with sweet potato and carrot

Ingredients
A little bit of butter for the saucepan
4 carrots
1 sweet potato
A bunch of kale leaves
1 cube of spices or vegetables broth
Pepper, grounded coriander seeds ...
Optional: Comté cheese or cheddar
Instructions
Heat 1 litre of water in a kettle.
Melt the butter in a large saucepan while you peel and cut the carrots and sweet potato in medium pieces.
Sauté the pieces of carrot and sweet potato in the casserole during a few minutes. In the meantime clean and chop the kale leaves into medium pieces.
Stir the kale leaves in the saucepan, along with the cube broth and boiling water. The water should cover the vegetables.
Season with pepper, grounded coriander seeds ...
Cook over medium heat until the vegetables are tender and can be easily cut with a knife, around 20 minutes, and turn off the heat.
Mix the soup with a mixer and season a bit more if needed.
Sprinkle with little bits of cheese before serving if you like, and serve the soup very hot.
© 2023 ©valenbarcelona