This potato gratin is a Spanish version of the famous french "Gratin dauphinois", originate from the Alpes. There are many different ways to do it, but I specially like it with a home-made Béchamel sauce to make it very tasty and "fondant". For the cheese, I really like the cheddar for any kind of "au gratin" dishes  such as the Ham and cauliflower gratin or a good  hot dog.
The original recipe of "Gratin Dauphinois" doesn't contain any meat. I turned it into a Spanish dish by adding chorizo because I live in Spain and there is a huge variety of cooking chorizo, specially the Asturians Chorizo, which particularity is to be smoked, and fit very well into the potato gratin recipe.
I like it because:
It is a perfect dish for a winter dinner with friends, it is very generous and it fills people very well. You can eat this gratin alone or with a salad for a light dinner, otherwise  more traditionally with a red meat if you feel hungry enough.
Tricks:
The potatoes must be boiled not more than 15 minutes, depending of their size, so that they don't tun into purée once they are in the oven.
I strongly recommend to make your own home-made Béchamel sauce, it takes 10 minutes and you can season it at your taste.
You can leave the potatoes skin if they are organic, just clean them well with water before cooking them.
---
INGREDIENTS FOR A 25cm DISH (10 in.)

Béchamel sauce:
2,5 tbsp (40g) butter
1/3 US cup (40g) flour
2 1/2 US cup (600ml) milk
Salt, pepper, grounded coriander seeds and nutmeg.
Gratin:
2 lb. (1kg)  potatoes
4,6 oz (130g) chorizo
1 oinon
1 garlic clove
1 US cup (100g) of Cheddar, enough to generously cover the gratin
---
Spanish Potato Gratin with chorizo & Cheddar recipe
Bechamel sauce
Melt the butter in a pot, and once it's starting to make bubbles, add the sieved flour all at one. Melt it with the spoon, and let it cook a couple of minutes.
Then add a little bit of milk and melt it together. Once it's absorbed, add a little bit more and repeat the operation several times until the mixture starts to be more liquid. Keep melting with the spoon even when all the milk has been added, and so during around 10 minutes, until it starts to be thick but not too much neither. It needs to stay liquid.
Turn off the fire, and then add salt, pepper and the nutmeg.
Gratin
Boil the potatoes during around 15 minutes depending of their size.
At the same moment preheat the oven at 180º.
Cut the chorizo and the onion in small pieces. Put them in a pan and cook them until the onion is blended.
Cut the garlic clove in two and rub the gratin dish.
Scrap the cheese.
Once the potatoes are cooked, peel them if needed and cut them in thin slices.
Put half of them in a dish, add the filling, half of the béchamel and half of the cheese. Then cover with the rest of the potatoes, béchamel and cheese.
Heat in a medium hot oven for 20 minutes, on the "gratinated" mode during the last 5 minuts, and eat it very hot.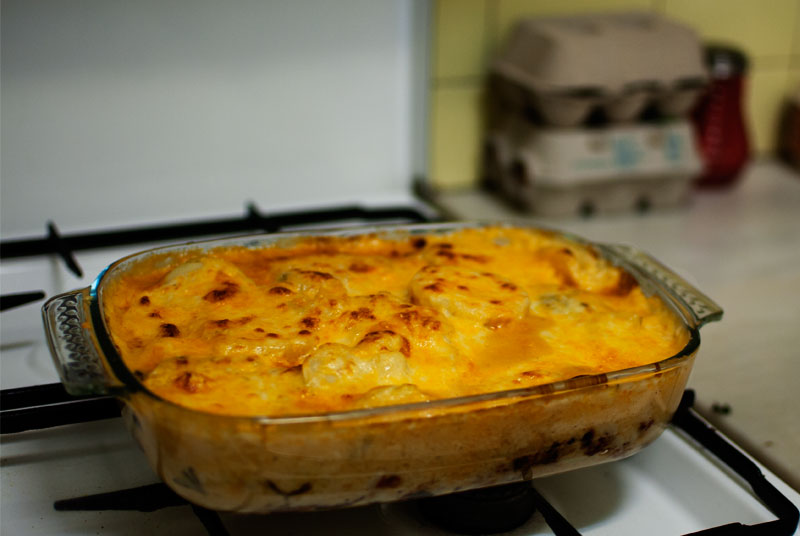 You can eat it alone or with a salad side.
Bon appétit!

Enregistrer