The pumpkin or butter squash is a kind of fruit cooked as a vegetable, usually in a pumpkin soup or purée. You can also cut it into slim slices and bake them in the oven, make a pumpkin pie, a pumpkin casserole or even a pumpkin bread. It is one of the most classic winter dish.
For the  seasoning, you can use a lot of grounded nutmeg, and grounded cinnamon in the case of a sweet pie. If you find it, the pumpkin spice is a mix of those spices plus ginger and clove made especially for tarts.

I love pumpkin cream for its  sweet taste, very comforting in winter. On the top of that, you can give it an original touch by adding other ingredients, that is why I call it "double flavour":

Sweet potatoes

give a sweet taste to the soup

and turn it

into a

great moment of pleasure

during the cold weather

.
Fennel gives an

aniseed,

 

fresh and light

touch to the dish.



Finally the curry paste, that mixes perfectly with any sweet ingredient, gives a spicy final touch to the cream.
I LIKE IT BECAUSE
It is very easy and quick to make.
This soup is perfect for winter meals, especially the version with sweet potatoes, warmer. Personally, I prefer the recipe with fennel, but each to their own.
TRICKS
To remove the pumpkin's skin easily,  cut it into pieces and boil it with its skin on in the pot with the other vegetables. Once the meat is tender, remove the pieces from the pot, the skin is then easily to take off with a knife, and put the pieces back into the pot before mixing.
Boil the water in a kettle while you prepare the vegetables, so that the pumpkin soup heats faster.
---
INGREDIENTS FOR 4 PEOPLE
a little bit of butter for the pan
2 onions
3 cloves garlic
1 pumpkin
2 sweet potatoes or two fennels
1 cube vegetable or spices broth
1 tablespoon curry paste
1 bay leaf
Nutmeg, pepper, salt, cilantro or any seasoning you usually use
---
PUMPKIN SOUP WITH CURRY RECIPE
Melt 

the butter

in a pot, cut the onions and

the garlic

into small pieces and fry very slowly in the pot  until onion is soft and translucent, and cut the other vegetables into large pieces in the meantime.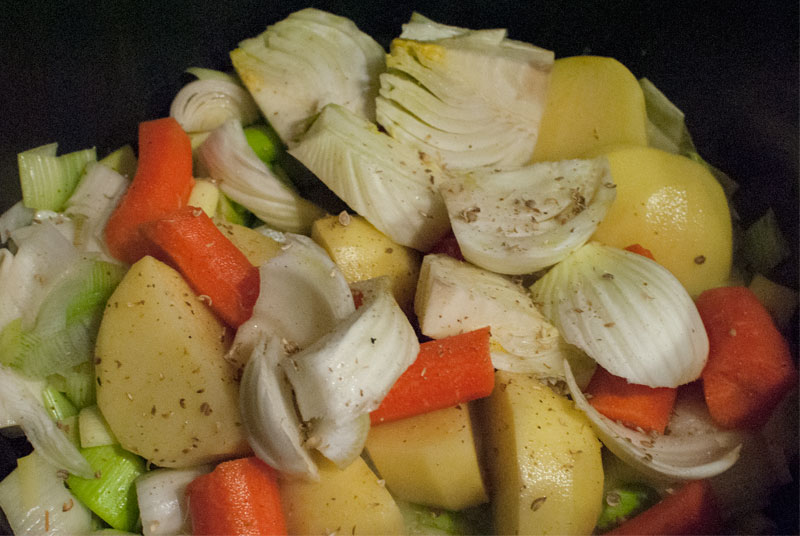 Incorporate and cook the rest of the vegetables in the pot for 5 minutes and cover with hot water. Add the bouillon cube, bay leaf,

curry paste

, nutmeg and other spices, and cook about 30 minutes from when the water boils, until vegetables are tender.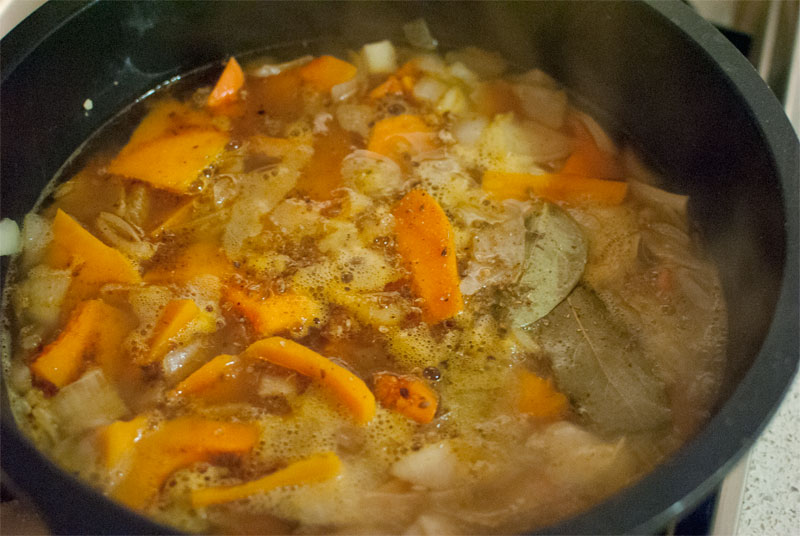 Mix with a hand mixer, seasoned a little more to your taste, and the soup is ready 🙂
Bon appétit!