This homemade spaghetti bolognese recipe is one of my favourite Italian dish: this pasta is always a great success with family and guests, and it is one of the easiest meal I have ever prepared. Once you've mixed all the ingredients in the pot, you just cook the sauce over a very low heat during a couple of hours, just like a stew. And you can use the leftover sauce, if there is, to make a lasagna.
This recipe will definitely show you that cooking a great meal can be very easy!!

I like it because:
There is a lot of vegetables: carrots, celery and onions, and cook like a stew, so the sauce has much flavour.

It is a perfect dish for a big dinner with friends or family.

You can prepare the sauce the day before and warm while you cook the pasta, this way the sauce has even more flavour … and you can enjoy your guests.
Tricks:
Bacon taste much better if you buy it in a dairy, and the price is almost equal to the price of an industrial pack.

You use the same quantity of each ingredients, 7,1 ounces, so it is very easy to remember.
---
INGREDIENTS FOR 4 PEOPLE
A little butter for the saucepan

7,1 oz (200g) chopped onions

7,1 oz (200g) chopped carrot

7,1 oz (200g) celery


7,1 oz (200g) minced beef

7,1 oz (200g) diced bacon

Salt, pepper, cilantro and any other seasoning that you usually use.

0,85 US cup (20cl) white wine

1 large can of crushed tomatoes (28 oz / 750g)

½ vegetable stock cube
---
HOMEMADE SPAGHETTI BOLOGNESE RECIPE
Peel the carrots,

celery

and onions, and cut into small pieces, onion aside.
Heat the butter in the pan and fry the chopped onions slowly until soft and transparent. Add the pieces of carrots and celery, and cook 5 minutes more mixing occasionally.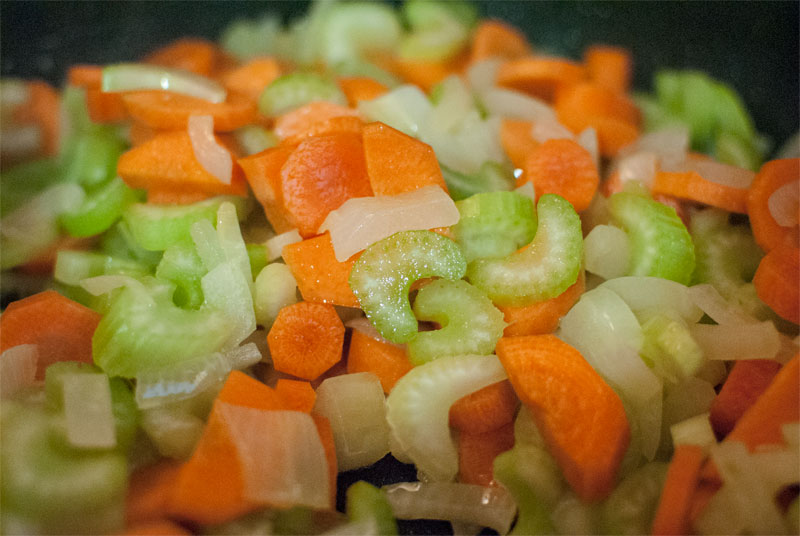 Stir in

ground beef,

bacon, seasoning's and fry a few minutes until the beef is browned.
Pour the white wine and sauté 5 minutes.
Stir in crushed tomatoes, mix well and add the bouillon cube.
Cover the pot, but not completely, and cook over low heat for 1 ½ hour, stirring occasionally.

Add a little water or broth during cooking so the sauce stays liquid if necessary.

Prepare the spaghetti 20 minutes before the end of the cooking.
You can eat the sauce with spaghetti immediately or the next day to have more flavour.
Bon appétit!