Summer in Spain can be very hot … there are times when you feel so hot that you don't want to eat anything, but nevertheless you are a bit hungry, and it is hard to find something to satisfy your desire. Looking for some ideas on the Internet, I found this this post on a blog proposing various potato salads, and I thought it was a good idea so I took a little bit of what I liked in each recipe. The one with a kind of Caesar Salad dressing appealed to me above all because I love Parmesan.
The result was very good! The green salad combined with parmesan dressing, cold potatoes, bacon and eggs is very refreshing and pleasant to eat, even in very hot weather.
You can also make a light version of this recipe with less potatoes and more green salad.
I like it because:
– It's quick and easy to make, and you can use cooked leftover potatoes from a previous meal.
– You can make it as a main dish or as a side dish, adapting the quantity per person.
Tricks:
– Choose good quality & tasty white potatoes as per it is the main ingredient, and make sure not to overcook them, so that they hold in the salad.
– Prepare the potatoes in advance if you can, so that you have time to let them rest in the fridge. If it is not possible, fill in the cooking pot with cold water once they are cooked, while preparing the remaining ingredients.
---
INGREDIENTS FOR 2 PEOPLE (or a side dish for 4 people)
– 700g white potatoes
– 1 cube vegetable or spices broth (optional)
– 1 egg per person
– 100g bacon (optional)
– 100g salad (1 handful) or more if you want
– 30ml olive oil
– 50g parmesan cheese
– 1/2 lemon juice
– 1 small garlic clove, chopped (optional)
– Salt, pepper, ground coriander seeds and any other seasoning you normally use.
---
Potatoes Caesar Salad Recipe with bacon & eggs

– Clean and cook the potatoes, with or without the skin if you like it better, in a big pot of salty boiled water, or steam them according to your taste. You can eventually add a broth cube to the water.
The cooking time depends on the type and size of the potatoes, 15 to 20 minutes in general so that they stay a little bit firm, which is better for a salad. Check with a knife.
If you don't have time to let them cool down, fill the same pot with cold water and let the potatoes inside while you prepare the other ingredients.
– Put the eggs in a pot filled-in with cold water and warm it up over high heat. Count 8 minutes for cooking once the water boils, then throw the hot water out of the pot. Fill it again with cold water and remove the shells of the eggs inside so that you don't burn yourself. Set the eggs aside in a small bowl.
– Fry the bacon in a pan until it become crispy (5 minutes) and set aside with the eggs.
– Clean the salad if necessary and dry it using a salad spinner in the meantime.
– Prepare the caesar sauce mixing the olive oil, the parmesan cheese, the lemon juice, the chopped garlic clove and the seasoning into a bowl large enough to contain the salad.
– Cut the potatoes and the eggs into small pieces, and the salad leaves as well if they are large, and throw them into to the bowl with the sauce.
– Mix all the ingredients with the sauce and serve immediately.
Bon appétit!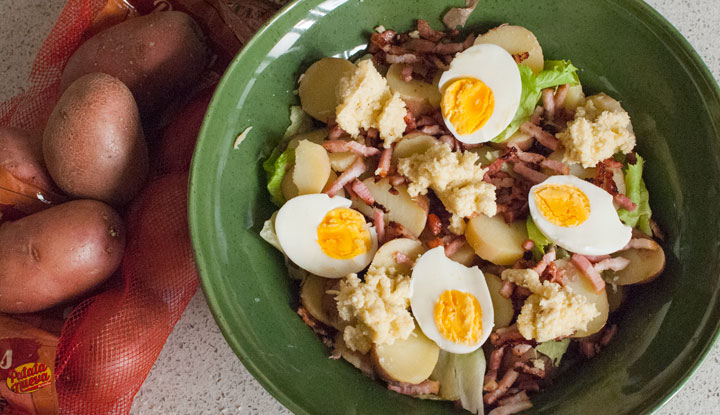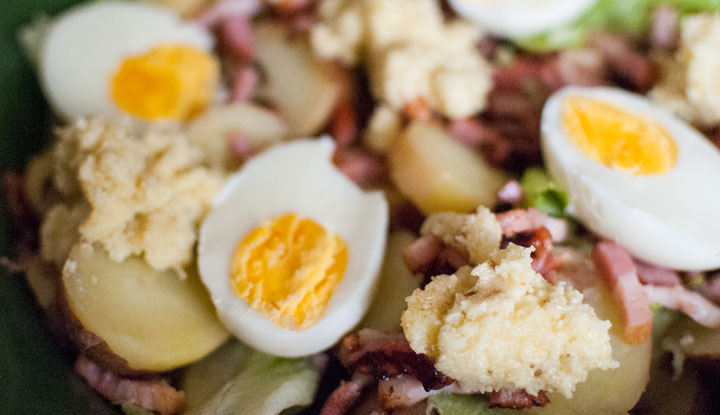 Enregistrer